Garuda Robotics Academy
Professional Drone Training by Professional Pilots
Ushering In a New Era of Regulatory Approval
Once again, Garuda Robotics Academy is setting the standard for professional drone training in the region, as the first in Singapore to receive CAAS approval as an Unmanned Aircraft Training and Assessment Organisation (UATO).
With the launch of the new UA training and licensing framework in Singapore, only UATOs may conduct training and assessment for the Unmanned Aircraft Pilot Licence after undergoing thorough vetting of their training system and curriculum.
All UATO training and assessment activities will be conducted under the "UATO.SG by Garuda Robotics" brand.
UATO.SG also maintains a roster of Approved Flight Examiners (AFE) who are the only personnel qualified to conduct practical flight assessments and proficiency checks for the UAPL.
Leading the Way in Professional Drone Training from Day One
On 1 June 2015, Garuda Robotics was in the first wave to receive the CAAS Unmanned Aircraft Operator Permit (UOP). As increasing numbers of customers looked to us for training to safely operate their new drones, we saw the need for a formal, systematic drone pilot training system. 
In July 2017, we officially launched Garuda Robotics Academy with P01: Professional Multirotor Pilot Course – a structured, intensive 5-day course designed for one purpose: training pilots to the standard required to obtain the CAAS Unmanned Aircraft Operator Permit (UOP). Partnering us in this launch was NTUC's Employment and Employability Institute (e2i), who supported us with a 50% training grant for all Singaporeans going through the Professional Multirotor Pilot Course to acquire future skills and increase work productivity.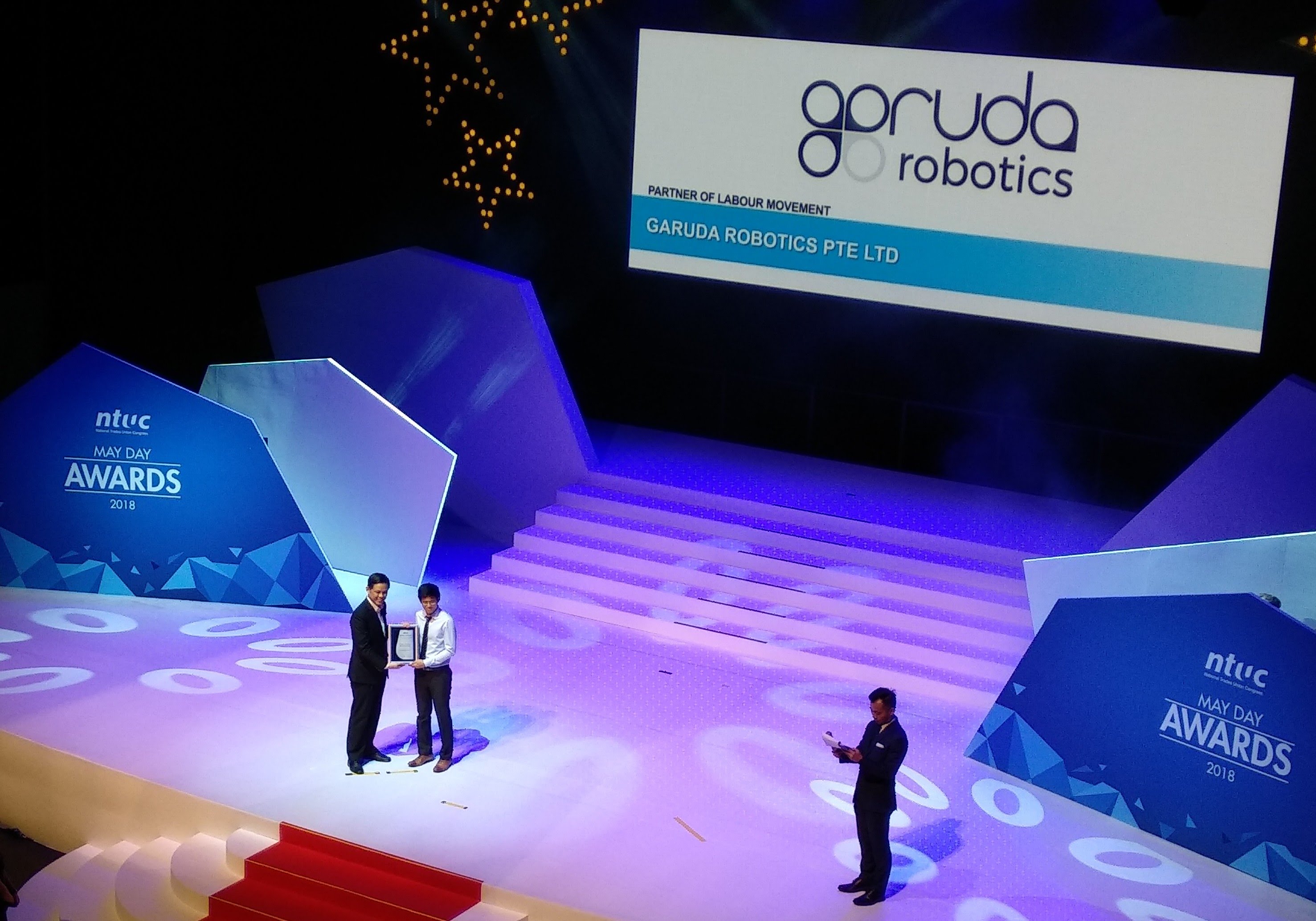 We are honored to have been nominated for and conferred the "Partner of the Labour Movement" award by the National Trades Union Congress (NTUC) during the May Day Awards 2018 held on 5 May 2018. This award was a recognition of our contribution to skills development for Singaporeans getting involved in the exciting new world of unmanned aviation.
What Our Past Participants are Saying
"The Professional Multirotor Pilot Course (P01) has been really informative and equips me with a framework on how to start off. Above learning flying skills, I also learnt about Singapore's regulations in piloting a drone, safety issues, and scenarios we need to be aware of. I now understand how to attain an operator's license and permits for various activities. This helps cut down time wasted in trial and error."
"Garuda Robotics Academy provides a course that is very well balanced between theory and practical training. The content was easy to follow and the instructors were all very friendly and helpful. This course helps develop my confidence to operate drones in a safe and responsible manner.
"The Professional Multirotor Pilot Course (P01) provides a great platform for anyone looking to develop the skills and knowledge required to confidently operate UAVs at a professional level. You will also gain a better understanding of Singapore's evolving regulatory framework, which is fundamental for anyone intending to operate UAVs legally and safely, whether it be for business or recreational purposes."
Trusted by Organisations of All Sizes